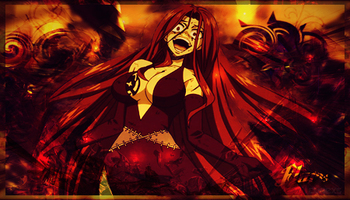 Like a Moth tobthe Flame part.3 - Halloween's Night
¦ -  Fragment de Souvenir débloqué: Finally, My Glory.
Les souvenirs de Kaiza avant son règne.
* Comme c'est un beau jour... POUR DÉTRUIRE TON ÉGO!!! Ferme les yeux sur le passé! JE HAIS TOUT LE MONDE ANYWAY. Tu n'as aucune fierté à dérober! Ouvre les yeux à ton avenir, TU AS CHOISI CELUI OÙ QU'TU MEURS!! Un idiot en moins, plus que 6 999 999 998, à genoux, servez-moi. Dites se que je goûte!  Fermez le voile tapis dans l'ombre! La fumée des flammes vous aveugle comme un papillon de nuit dans les flammes...*
Lumière au côté obscure, bonheurs au malheurs, idiotie à la connaissance, voilà mes valeurs, je suis née pour découvrir. Je suis née pour explorer. Depuis que je suis jeune, je ne cessais de poser des questions. Ahah! Cela faisait bien rire ma mère, il paraît... AVANT QUE JE LA TUE! AINSI QUE MON PÈRE! On ne me dit pas non!... Après cette incident, tragique il paraîtrait, on m'a enfermée. " C'est mal " il m'ont dit " Je m'en moque " je lui ai répondue ". Les jours furent long, très long... Me sentais-je seule ? Pas vraiment. Même avec un camisole de force, cette barrière n'était guère superficiel. À force de me débattre, quelque parties de métal me servait à me couper moi-même. Blanc et coussiné? Je les ai tachés d'un rouge sang pourpre. Beaucoup sont intervenu en hurlant " Elle veut se suicider! " Alors que... MORT!! Ils moururent tous! Les uns après les autres! Dans une marre de sang, une marre de douleur. Je n'essayais pas de me suicider. Se qu'ils ignoraient, c'était ma soif de connaissance. Ma soif de pouvoir! Tapis dans le sanguinaires, le même prénom inscrit de mon sang dans tout les recoins de ma chambre isolé... À cette époque, je n'avais que 7ans et je venais de faire un pacte avec le diable.
* Quand je te vois, je me dis... MEURT!! Je vais t'apprendre à dire mon nom... Tu n'auras que l'eau à la bouche... Avoue-moi se que je goûte... Comme un papillon de nuit  dans les flammes, tu t'y brûle les ailes. Tu te noie dans ta vanité. Ne vient pas me bullshiter. *
Un jour comme les autres, je me lève pour aller à cette soi-disant école. Chiante et toujours chiante, alors que ma dague sacrificiel trône sur ma petite table. J'ai mieux à faire, mais si je n'y vais pas, ces connards vont encore m'enfermer. Ils m'ont dit que j'avais " perdue foi face au créateur" Ah! Ne vient pas me bullshiter avec ces conneries. Tout se que je voulais était ma liberté. C'est pour ça que j'essaie de garder mon calme. Est-ce facile? La punition d'être enfermée était moins sévère. J'ai comme l'impression d'être une damnée et damnée à mourir ayant perdu qui j'étais. Bref, il m'ont chipé dans une école remplit de none. Et c'est moi la méchante? Je veux juste la connaissance et eux veulent me ramener sur le droit chemin. Quel chemin ? Alors que tous amène à une tombe un jour ou l'autre. Peut importe le chemin, on a la même destination finale! Alors que moi, je cherche le pouvoir et l'immortalité. Oui, le savoir est la clef et la pouvoir la recette pour cet ultime objectif. Ma dague devait rester là, je devait détourner les yeux et repartir sur le " droit chemin " une seconde chance ? Ils veulent seulement me modeler à leur images comme de l'argile! Gagnant la cuisine, seule comme toujours, la solitude à toujours été mon meilleur allié, je me fais à dîner. Je pars ensuite vers cette " école " . j'ai dès lors : 16 ans.
* Comme un papillon de nuit dans les flammes, je vais t'apprendre à te mettre à genoux... Tu incarnera l'avarice, tu ne seras qu'un sacrifice... Comme ça pas de jaloux... Voilé dans le noir, tu ne peux voir ton désespoir. Tu n'es qu'à mon service face à ma soif de savoir. C'est avec ce sacrifice qu'on se dit au revoir... *
Les passants ne sont que des imbéciles. Personne ne fait attention quand je passe. Ils ne se tassent pas et continue leur chemin comme si j'étais invisible. Je ne suis pas imperceptible et ni transparente. Je dois endurer cela tout les jours. C'est de la pure merde. Comment ont-ils osés me faire endurer cela. Alors que je préférais être enfermée. Au moins, je pouvais me débattre, me mordre la langue pour faire venir les préposés ou encore frapper la porte. AU MOINS JE N'AVAIS PAS À ENDURER PERSONNE! Je ne vois rien de positif. J'arrive à l'école. La cloche bruyante sonne, perçant mes oreilles. Un jour cette cloche brûlera! J'en fais le serment. Et si elle emporte le bâtiment, tant mieux. Le nombre de gens que j'aurai libérés sera mémorable. Mon nom sera dans l'histoire. J'en fais la promesse. Seulement une cloche qui retenti ? L'entendre 8 vois par jours pendant plus de 180 jours par années 1440 par années... C'EST 1440 DE TROP! Comme un moustique qui tourne autour de ton oreille sachant que vous allez l'écraser ou un papillon de nuit près d'un feu, sachant qu'il se brûlera...
Maintenant en classe, une classe remplit d'idiot... Rien ne me fait plus chier que de les entendre ou encore même respirer le même air qu'eux. La prof arrive, une none, dans sa robe immonde. C'est en voyant la prof la première fois que j'ai eu cette idée de me déguiser en none ensanglantée morte-vivante. Sa réaction si outrée et insultée vers son égard avait été si marrante que je lui ai ris en pleine figure. Comme quoi, je me foutais de cette seconde chance. Je ne changerai pas. Je fais se que je veux. Et si cela ne plait pas, merci de me le faire savoir, mais ce savoir, je n'en veux pas, cuz, Why the fuck you bullshit me ? Je vais t'apprendre à te mettre à genoux et dire nom.
Alors qu'elle nous enseigne tous ses balivernes pratiquement intéressants. Je vois justement passer un papillon de nuit. Un papillon de nuit en plein jour? Étrange, et plutôt qu'est ce que cela signifie ? Le fameux mythes des papillons de nuit autour d'une lumière était un signe de mauvaise présage. Ce monde à toujours été étrange. Mais bref de conneries, je dois me concentrer sur ce cour. Si ce n'est pas une plaisanterie depuis le début. Je me plains, je me plain, mais je sais que beaucoup on plus de mal que moi dans ce monde. Je plaisante, ceux qui luttent pour garder la tête hors de l'eau de gond que retarder l'inévitable. À les voir couler et se noyer, ceux-ci, je ne peux m'empêcher d'aimer les voir suffoquer. Je ne peux pas attendre de les voir brûler, dans le creux de ma main. C'est alors que la sonnerie sonne pour mettre fin à cet enfer. Je me lève pour retourner dans le couloir.
Rien à faire, je suis à l'école. Que faire, quand il n'y a rien à faire ? S'inventer une passion ? Mon imagination va très bien, merci de t'en inquiéter. Je n'ai pas besoin de tes tuyaux. Alors que beaucoup se regroupent, moi je reste seul. Je le sais trop bien, nous sommes plus fort ensemble que seul. C'est le point fort de la collaboration, mais une fois le groupe défaits, celui restant n'est qu'un poisson seul dans son bassin. C'est la triste réalité de la nuée, du troupeau à la meute. Seul, ceux-ci deviennent seulement des papillon dans les flammes.
* Tu es attiré par la lumière comme un bateau perdu au milieu de nulle part. Une luciole seul dans un voile ténébreux, tu illumine ta propre conscience sachant que tu me peux survivre seul. Tu débats ton corps pour jouer de la musique, alors tu te me donne raison, tu es dans ma toile. Éclos comme une fleur nécrosé. Je dévore tes désirs les plus fourbes pour me donner vie à ton plaisir interdit. Comme un papillon de nuit dans les flammes. Tu apprendra à dire mon nom. Tes désirs se meurent, brûle peu à peu, mon roi, mon prince, mon esclave... Bienvenu dans la terreur de la nuit! Là où rien ne peut être expliqué.
Comme ton crâne qui te sert de tête. Comme cette cacahuète qui te sert de cerveau, fait bouger ma silhouette pour faire de la musique. Perd l'esprit dans le voile ténébreux, tu es pris dans ma toile. Tu es attiré par la lumière comme un bateau perdu au milieu de nulle part. Une luciole seul dans un voile ténébreux, tu illumine ta propre conscience sachant que tu me peux survivre seul. Brûle, comme un papillon de nuit dans les flammes... Tu apprendras à dire mon nom, éclos comme une fleur nécrosé... *
Cours après cours, foutu ennuie de merde que me donne le goût de me trucider. Le dîner ne laisse pas sa place dans la hiérarchie de l'ennuie. Un combat titanesque pour celui qui l'emporterait, aurait le prix du moment de la journée la moins supportable. Avec en guise un échantillon de sang peut être. Si le pétrole est l'or noir alors le sang est l'or rouge. À la quantité de fer qu'il s'y trouve... En plus qu'il paraît que le dons sauve des vies. Tout le monde mange, moi aussi, mais dans mon coin. Je hais leurs jovialité. Leurs sourires me rendent malade. L'imbécilité, j'ai peur qu'il soit contagieux. Ces gens me sont qu'un putain de cancer! Encore un cloche qui retenti. Un jour viendra qu'elle se taira, ce jour, ma gloire!
Maudite condition de liberté où je ne me sens aucunement en liberté. Aucunement! Alors que quand j'étais jeune, je pouvais faire se que je voulais. Je me rappelle! Ces cours, je n'en avais pas besoin, mon QI était déjà élevé. J'apprennais par moi même et personne d'autre. Seul et toujours seul, comme un prédateur face à ses proies. Me délèchant à la simple vue de leur stupidité. Comme si l'histoire allait m'apprendre quelque chose, alors que je serai dans l'histoire. Le nom, mon nom! de Kaiza sera connu de tous! J'entends l'enseignante dire ses conneries, mes yeux sont lourds, si lourds que j'ai l'impression que la classe est inversé. La tête en bas, ensuite à l'endroit. Je n'écoute absolument rien. Rien n'est intéressant dans ses dires. Je me tourne, c'était bientôt Halloween. C'est vrai, la pénombre arrive plus tôt. Le déguisement? Ce n'était que pour me moquer de leur foi et moi ? Cette affront m'a nourris. J'ai ris aux éclats! J'ai mieux comme projet d'Halloween... Beaucoup... Car, je suis née pour gagner, je suis née pour régner... Ma gloire.
Like a Moth to the Flamme - Invoke my Pleasure
La pluie tombe, comme c'est merveilleux en cette journée OÙ TOUT LE MONDE VA CREVER!! Damn you! Et ma liberté éphémère où elle est ? Je la cherches je la cherches, mais... Je ne la vois - PAS!! Elle est comme l'eczémas... Vas et viens pour te faire CHIER!! Fait moi mal - comme le ZONA!! Comme un virus qui ne cherche à tuer... Je suis ce virus. Munie d'une hache dans le couloir. La nuit d'halloween, ce n'est qu'un jeu. Rien n'est réel n'est ce pas ? Un peu de rouge sur les murs n'a jamais tuer personne... Devant le miroir, mes yeux cernés d'un noir profond comme la nuit. Où sont les étoiles dans mes yeux, j'en ai jamais eu depuis la perte de ma liberté. L'éclat dans mes yeux ; vide comme la nuit. L'âge des ténèbres avant le big bang témoigne de ma solitude et de ma force! D'un beau coup de hache, avec le côté contondant, je frappe le crâne de celle qui me regardait toujours de travers. Rien n'est réel? Elle tombe raide comme une roche. Je lève la tête avec un sourire sournois. Rien de plus simple, ce n'est qu'un trick or threat, le mien est juste un peu plus original. It's just a prank, alors que les autres se mettent à courir en hurlant. D'un juste de bras, j'enflamme l'entrée. Comme je l'ai dis, ils apprendront à dire mon nom.
Elles m'implorent
- Arrête, Kaiza, je t'en pris... Arrête...
Avec ce même sourire, qui devient farceur. Je lai regarde de haut. Elles sont à genoux. Elle se prosterne devant moi! MOI! La lame de la hache tranche le cou de l'une d'elle. La tête roule plus loin, encore plus de cris. Nourris moi, continue, le côté contondant fracassant son crâne. Celle-ci revole au mur. Un peu de rouge, C'était trop blanc et macabre - ce rouge va donne un peu de joie de vivre dans ce lieux chiante. Une suite, un si bonne histoire se doit de continuer, un jeu doit durer son temps pour s'amuser. Longeant le couloir, laissant traîner la hache au sol... Une fille sort des toilette, la première chose qu'elle a vue, la hache DANS SA FACE! Comme tout les autres, elle aussi tombe comme un rocher. Mes doigts contre le murs, glissant la traînée de sang. Ma liberté? Je la retrouve peu à peu, la pluie deviendra mon gardien, alors que la terre mon juge... J'arrive dans ma classe, tout le monde part déjà ? Tout à coups leurs regards deviennent affolés et effrayés. Pourtant, je veux seulement jouer au chat et à la souris. Seul, contre tout ces petites lucioles perdu... Alors que je lâche la tête de la none la laissant rouler... Elles ont perdues leur phare. Les gicleurs se mettent en marche. Les étudiantes se mettent à courir complètement affolée. Je me précipite devant l'une d'elle, répliquant de ma hache. Une autre traînée rouge. La deuxième à l'opposé, je lance une paire de ciseau qui m'était à porté de main. Troisième, Quatrième " Khahahahaha Gwarhahahahaha Arh!! " Un rire véritable pour un véritable chaos! Et moi dans tout cela? Je n'en manque pas une! Je veux une partie parfaite! Un blanchissage où que mon prix serait ma liberté autrefois enlevé. Une grand coup de Hache dans leur tronche.
Je kick une tête qui est dans mes jambes. Même tous perdantes, elles sont encore dans mes jambes! Comme quoi j'ai l'air de ne jamais être contente et satisfaite. Eub bah non! Même mort, elles sont dans mes jambes. Hache à la main, gicleur en marche en plus dans la pluie qui tente d'éteindre l'incendie. Les urgences arriveront bientôt, et s'ils voient, ils me reconnaîtront. Laissant traîner la hache. Ma marche morbide dans un couloir à peine éclairé.
* La malice n'est qu'un jeu, les perdant s'y perdent dans une toile. Dévoré par ma soif de savoir, ici ma gloire... Maîtresse de mon propre purgatoire...*
Je me dirige vers la cour, j'ai le temps, enfin, je crois. Sûrement, pas grand chose n'a dû les alerter. Je me penche pour dessiner un pentacle ensanglanté. Mon marché est conclu, tout ceux là contre ma liberté. Je me met à genoux au centre de l'étoile. Celui-ci ce met à scintiller d'un rouge fluorescent. Ici même, j'appelle mon plaisir, j'incante mon futur et mon pouvoir. Dague au dessus de ma main, j'ouvre la porte laissant le liquide contenant du plasma s'échapper. De l'énergie requise, la voilà. Une pluie rouge, un bain de sang, j'appelle celui qui viendra me sauver. Note avec mon démon: Apparaît comme un preux chevalier.  La victoire vient du péché. Les gouttes tombent doucement au centre. Levant les yeux devant sa grandeur, il le sait que je n'ai pas peur.
- Mon roi...
* Je l'ai vu, je l'ai connu et je l'ai soutenu. Mon plaisir fut invoké. C'est quelque que je ne peux expliqué. C'est comme ce crâne qui vous sert de boîte. Et ce pois de cerveau. Le voile de papillon de nuit mon prédateur interdit. Lui qui démontre le parfait lien, luxure parfaite *
Il ne parle pas, ses yeux sous un bandeau. De long cheveux, se que j'ai toujours rêvée. Pour une fois, je sens la chaleur de mes larmes. Enfin quelqu'un qui me comprend. Grand et imposant, main surpuissante, ailes démoniaque. Une porte s'était ouverte depuis peu. Cette porte qui me mènera là où je serai choyée. Je lève, ce monstre doit être 2 fois plus grand que moi. Si ce n'est pas plus. Un moment de silence sous cette pluie chaotique. Essayant désespérément d'éteindre l'incendie. C'est fait, maintenant que devrais-je faire ? Quelque chose d'autre était dans le pacte ? Une nuit d'Halloween inoubliable.
* Elle m'a appelée alors que elle était plus qu'en détresse. Elle a fuis décidée à d'apprendre ses démons. Elle voiles son passé pour ouvrir vers son futur. Non seulement elle est parfaite, mais elle n'a pas peur de ma main autour de son cou. Les monstres ne sont qu'une partie d'elle, le péché c'est se qui l'a nourrie. Ici est ma Dictatrice, Ici est ma Reine! Rien ne lui fait peur même pas mon horriblement apparence de roi... *
Quand l'on joue à la roulette russe et que la mort vient pour toi, dans le cas contraire où elle est dans ton lit. Dans les rares cas où les victimes étaient tous des camarades. Je suis la Reine, je suis la Motherfucking Joy-slayer. Dans les bras de mon démons, copain-copain avec mes monstres. Ma vie ordonné par le sexe, la sorcellerie, drogue et violence. Le pacte du sexe avec le roi avec sa main autour de mon cou. Le fouet n'était que pour plus tard. Je n'ai plus à avoir peur, j'inspire la peur de ma gloire et de mon savoir. Gloire - Je l'ai toujours dit : un jour je vous apprendrai à dire mon nom. Tous, à genoux devant moi. Sexe - avec un démon sans yeux avec sa main autour de mon cou. Sorcellerie - Ma soif de savoir ne fait que devenir plus grand chaque jour. Drogue - L'envoutement suprême, illusion où l'on se perd. Je suis celle qui étant le voile. Violence - J'extermine tout ceux voilés prit dans ma toile. Le péché vers le chemin de la gloire.
Mon nom ? Ceux qui le connaissent sont à mon service jusqu'au jour où je m'en lasse. Si tu y tiens, ouvres les oreille et tes yeux, car il ne sera pas là deux fois : Kaiza
Celle qui a toujours raison. Celle-ci qui se moque de toute les putains de conneries qui sortent de votre orifice oral.